Math has always been one of those subject that has been hard for me to teach, but I get most of it.  I have found something that works well for my older students, but for my younger students, I had been struggling. 
Math Mammoth has changed all that though.  I am reviewing the Math Mammoth Light Blue series grade one.  It is a complete math program.  There are levels for students grades 1–6.  Each grade level includes two work text, A and B, which covers an entire year.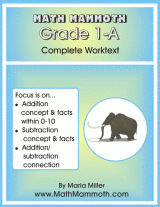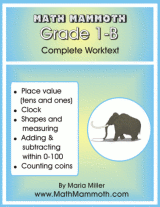 Math Mammoth Light Blue Grade One:
The two student books (A and B) for 1st grade cover the following topics:

addition and subtraction concept and basic facts within 0-10
place value with 2-digit numbers (a.k.a. tens and ones)
some adding and subtracting within 0-100
some geometry and measuring topics
reading clock to the half-hour
counting and using coins (US, Euro, or Canadian)

Some main features of the Lightblue Series books are:

focuses on understanding of mathematical concepts
uses clear explanations, lots of visual exercises and pattern exercises
mastery oriented: concentrates fairly long on a topic, with fairly few topics per grade
emphasizes mental math and developing number sense
very little teacher preparation needed
You will need the following manipulatives, which are easy to find:
A 100-bead abacus (for 1-B; especially in the place value chapter)
An old-fashioned alarm clock or other analog clock where you can turn the minute hand and the hour hand will turn as it is supposed to (for 1-B).
A ruler that measures in inches (for 1-B).
A ruler that measures in centimeters (for 1-B).
Math Mammoth Light Blue has been a wonderful thing for our first grader.  The lessons can be as long or as short as you want them to be.  The pages are not cluttered and therefore are nice for a child with vision challenges.  She loves to work through the pages. 
There are some links to games and extra activities to further help your child gain the confidence in new concepts needed to continue on in their math journey.
The teacher instruction pages are not overwhelming for the teacher, they have simple yet effective directions to help instruct your child through new concepts.
Sample pages are available for you to look through as you make your purchasing decisions.   There are also placement test to help you figure out which level your child is ready for.
I am thoroughly impressed with this program so far.  I have found that my daughter is really understanding new concepts and is also able to recall previous concepts.  For the small price ($34), this is one of those , I can't believe it really works type of programs, but it does, and it is does not seem to leave a bunch of holes like many of the other early math curriculums I have tried.
Click below to see other reviews from the crew!!

As part of the TOS Crew, I have received this program free for my personal and honest review.